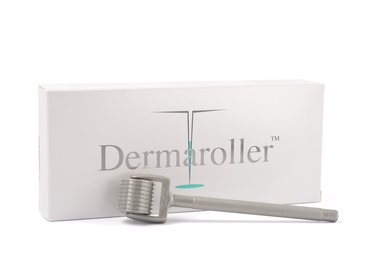 New from the home of Genuine Dermaroller, eDS eDermastamp Skin Rejuvenation takes medical skin-needling to an even more advanced level. eDS is medically engineered and electrically powered for controlled needling depth and pressure.
The eDS provides more intensive, more controlled and more comfortable medical skin-needling procedures. The procedure stimulates the skin to regenrate and repair itself naturally and safely, creating smoother, brighter, younger and healthier looking skin.
Treatment can significantly improve the appearance of:
Acne Scars
Aged and sun damaged skin
Facial and Decolette lines and wrinkles
Stretch marks
After treatment the body will start to naturally regenerate and repair the skin, working below the surface in the dermis. This takes time as new collagen is formed, new skin cells are generated and blood supply is enhanced. It can take up to 6 weeks before visible signs are seen and the process will continue over following months, providing you with a natural and long lasting enhancement.
Treatment usually consists of a series of 3 procedures with approx 6 weeks between them. In the treatment of acne scarring and other forms of scarring it may benecessary to have up to 5 treatments.
| Treatment | Price |
| --- | --- |
| Single Treatment Full Face | £250 |
| Pre-Pay Course of 3 Treatments Full Face | £650 |
| Single Treatment Eyes or Smokers lines around lips | £120 |
| Pre-Pay Course of 3 Treatments Eyes or Smokers lines around lips | £300 |